From 1st September there's going to be another nasty round of postal increases for overseas customers. Nothing as bad as last month's increases which saw some prices to USA increasing by over 50%, but some are nevertheless hefty. Zone 2 (Australia and New Zealand) will see the biggest increases, Zone 1 (other territories outside Europe) will see significant rises, whereas the rises to Europe are very small. Apparently this has been caused by the lack of commercial flights to many territories and big increases in freight shipping costs. In Europe much of the air fright now goes by road.
So to beat these price rises there's a newsletter mailed today, Sunday 23rd August and the site will be updated on Tuesday or Wednesday.
Spiral Scratch original
As promised last newsletter this update is more punk orientated than the previous couple with a wide selection of: recent reissues, KBD rarities, 70s punk, anarcho punk and some nice foreign covers.
Close To Me Japanes 12″ with obi and insert
Howevever, it's not just punk, some nice indie items including Thom Yorke's first release on a small Exeter compilation single Hometown Attrocities EP, Spiritualized Amazing Grace box set complete, Fat Boy Slim You've Come A Long Way, Baby LP and some nice Japanese items including the very rare Weezer Pinkerton LP of which very few were pressed.
And lastly, my favourite of the new additions, this lovely Blondie X-Offender Japanese 7″ on the Private Stock label in a fantastic band photo pic cover. The UK and USA pressings just had the boring record company bag.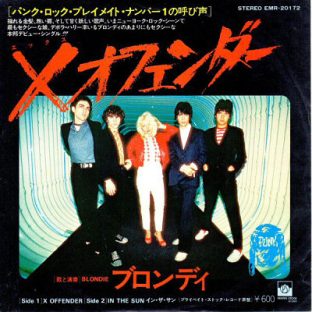 Enjoy the newsletter, there's a whopping 565 items on it.