Posted on July 7, 2010
Filed Under Web Site | Leave a Comment
This time it's the turn of Elvis Costello to have images added to all his items in the database.
In the early 80s he was one of the most collectable and sellable artists, but these days all the collectors seem to have gone and apart from the early singkles and albums that seem to have stood the test of time, the value on the rest of his collectables have collapsed. Sadly no-one seems interested in collecting him these days.
Posted on July 6, 2010
Filed Under Gigs | Leave a Comment
The Cannanes are playing the Star & Shadow in Newcastle on Sunday 11th July. Unfortunately that's the same night as the world cup final so not the best of nights.
Posted on July 5, 2010
Filed Under Stuff | 3 Comments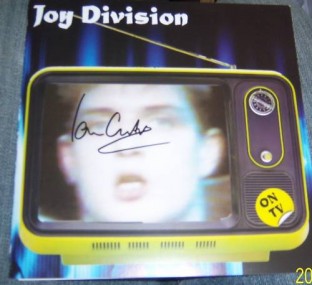 Quite unbelievable!! This fan club single on Ebay released a few weeks ago, some 30 years after the death of Ian Curtis is signed by him.
If the seller leepne456 either signed it himself or should know better, after all it could hardly be more obvious that this is not a genuine signature.
Equally stupid is whoever had bought it - £225, they must be insane!!! The stupidity of some people never ceases to amaze me.
« go back
—
keep looking »