Posted on April 8, 2012
Filed Under Interesting Records | Leave a Comment
Ha! Ha! there's a great site dedicated to the worst record covers of all time. What a work of art this site is.
Posted on April 8, 2012
Filed Under Gigs | Leave a Comment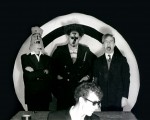 Rock Garden Revisited:
The Cravats plus The Young Hegelians + Pellethead Friday, 1st June,
2012 £6 Adv/£8 Door
Spear of Destiny plus support, Thursday, 12th July, 2012 £10 Adv/£12.50 Door
Penetration plus Year of Birds, Saturday, 11th August, 2012 - Sold Out
I'm doing some gigs with a mate as Big Figure Promotions:
New Town Kings plus support, Saturday, 7th July, 2012 £8 Adv/£10 Door
Gemma Ray plus Sarah Proctor, Saturday, 8th September, 2012 £8/£10 Door
All gigs taking place at the Georgian Theatre, Stockton on Tees
www.georgiantheatre.co.uk and www.rockgardenrevisited.co.uk for more info
Provisional Gigs: Gallon Drunk (October) and UK Subs (December) TBC
Posted on April 3, 2012
Filed Under Obituaries | 8 Comments
I'm very sad to report that on March 21st 2012 that Paul Gilbert guitartist with the wonderful 1977 punk band The Jerks has passed away aged 51 after suffering from haemochromatosis.
Paul was a founder member, main songwriter who wrote their wonderful 'Get Your Woofing Dog Off Me'. He also provided the sleeve notes to their two reissues on Overground Records the live album 'We Hate You' and the fantastic album of all their studio recordings 'Jerk Off'.
The band's version of 'California Sun' recently appeared in the Sundance Festival award winning documentary 'Shut Up Little Man'. A fitting tribute to a wondrous talent and a lovely person.
« go back
—
keep looking »