Posted on January 23, 2013
Filed Under Stuff | Leave a Comment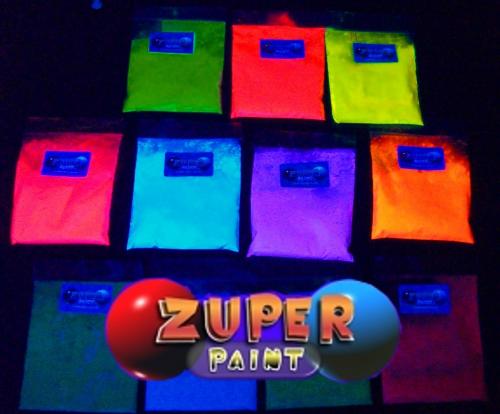 Zillah Minx from Rubella Ballet has teamed up with Zuper Paints to launch her own brand of dayglo fabric paint. There's a Facebook page about it here and you can buy it here.
Kilabitzzz Ltd Zuperpaint is proud to link up with Zillah Minx to produce their exclusive high quality range of Zillah Minx Zuperpaint.
Zillah Minx is the lead singer of seminal Punk dayglo band Rubella Ballet. A band that pioneered the fluorescent 'dayglo punk' look in the 1980's, a time when others were drab and almost colourless.
Making her own clothing and painting them with fluorescent paint then performing on stage with UV blacklighting she created a memorable bright splash of colour.
Other bands and current day clothing designers, including Louise Gray, have credited her for influencing them when designing their own looks.
Zillah has released a number of albums and performed around the world, also spending some time in the neon fluorescent scene of raves and dance clubbing. Zillah remains involved with the dayglo scene and still performs on stage with blacklighting and fluorescent colours.
We have created a range of products to complement her creative design needs and have now made them available to the public, so that you can buy them and make your own UV glowing fluorescent items.
Products in the Zillah Minx Zuperpaint range include acrylic paints, fabric paints and nail varnish; all in super bright fluorescent colours that glow in UV blacklight.
Zillah uses these products on stage and on her clothing, now you too can use Zillah Minx Zuperpaint to get superb results, just like Zillah.
Posted on January 21, 2013
Filed Under Interesting Records | Leave a Comment
Cracking collection of Bow Wow Wow 7" acquired including some gems like: I want Candy Japanese in the bizarre cartoon cover, C30 C60 C90 Go! French, Dutch & German all in unique covers, I Want Candy Brazilian promo, Sexy Eifel Tower French promo only, C30 UK test pressing, Mario Dutch and releases from Canada, Spain, New Zealand etc.
They'll all be on the next newsletter and site update. In the meantime check out the site for more Bow Wow Wow 12" and LP rarities, there's quite a few up there.
Posted on January 17, 2013
Filed Under Festivals | Leave a Comment
Who'd be a promoter? Not me that's for sure! Firstly The Exploited pulled out to be replaced by the UK Subs and Mad Sin and now the Anti-Nowhere League have pulled out to be replaced by Discharge.
If you want super cheap tickets for just £19.50 then pop along to Gigbox now, after this month they go up a fiver.
« go back
—
keep looking »